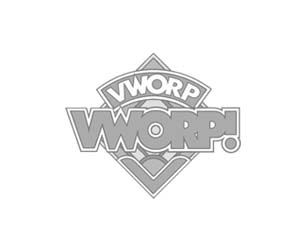 THE IRON EMPIRE! UNMADE DOCTOR WHO ANIMATIONS! ABSLOM DAAK! JOHN RIDGWAY AND STEVE PARKHOUSE!
The acclaimed Doctor Who comics and artwork fanzine Vworp Vworp! Returns with its long-awaited fifth issue this January.
This time, our focus is on the sadly cancelled NELVANA animated series, together with some of the most iconic Doctor Who strips ever created. We have some incredible scoops to share with you, together with brand new strips from a range of artists, old and new.
This 148-page issue, available in three cover variants and lavishly illustrated with original artwork and never-before-seen photos, includes:
A major new piece on the various Doctor Who animated series pitches over the decades, richly illustrated over 34 pages. A tantalising saga of perpetual near misses, Richard Bignell weaves and bobs through a cavalcade of pitches by NELVANA, ENOKI FILMS, RUBY-SPEARS, KAREN McCOY, BBC FICTIONLAB and more as we consider not just the question of who, but also why (and why not)?
Interviews with artist JOHN RIDGWAY and writer/artist STEVE PARKHOUSE, as we go behind the scenes of their magnum opus, the VOYAGER saga
PHIL BEVAN remembered, with personal recollections of his brother, Kit, as well as friends Jeremy Bentham and Stephen James Walker, offering a unique insight into this much loved artist, who illuminated the vibrant fanzine scene in the 80s and 90s
Brand new comic strips and fiction:
THE IRON EMPIRE – what happened to the Empire during the reign of Emperor Vesuvius? Find out in this much anticipated sequel to the Mills/Wagner great that launched Doctor Who Weekly, written by Lance Parkin and drawn by Steve Andrew
Ever pondered the fate of the Thals in the TV Century 21 Dalek strips? Find out in YEAR ZERO, a new instalment in the adventures of outer space robot people, imagined by writers Alan Stevens and Matthew Kilburn and artist Andy Walker
Abslom Daak gets a bittersweet coda in PAPER TIGER, written by Alan Stevens with crisp black and white art by the legendary John Ridgway
We're also treated to three thrilling pages of DALEK KILLERS! – an intriguing reboot (of sorts) pitched to Titan by Richard Starkings and Lee Sullivan
Thrill to Sam Gingell's debut strip, NEWTON'S SLEEP, a thought-provoking examination of the Cybermen as a reaction to societal decay and decadence. Sam crashed onto the scene in 2022 and we're sure this won't be the last we see of him
Sixties script editor Donald Tosh's final piece of fiction, JOURNEY TO NOWHEN, a whimsical tale of competing realities and the power of nostalgia.
Finally, we take a visit back to the scene of one of the Doctor's lesser discussed small screen adventures in Graham Kibble-White's ENCOUNTER AT CRINKLEY BOTTOM!
Vworp Vworp! Issue 5 also includes:
Packaging beauty! Graphic and packaging designer ANDREW PREWETT, who designed the beloved Doctor Who Sound Effects LP, reveals unused designs for a number of Doctor Who DVD boxsets
ABSOLUTE DAAK: A REVENGER'S TRAGEDY – The Dalek Killer deconstructed by Alan Stevens, ahead of his return in our strip, PAPER TIGER
New features on TERRY NATION and DAVID WHITAKER's work on THE DALEKS strips and the stage play, THE CURSE OF THE DALEKS
Extract from PAPER TIGER
Abslom Daak gets a bittersweet coda in PAPER TIGER, written by Alan Stevens with crisp black and white art by the legendary John Ridgway.
Plus, our exciting FREE GIFT this issue:
DOCTOR WHO: ROWEN – a full-cast audio adaptation of the 1992 initial script for the cancelled Nelvana series.

Presented on CD, directed and adapted by Sean Mason and introducing ARTHUR BOSTROM as the Nelvana Doctor, this brand new drama is intended to give an authentic taste of what this new era might have been like.
Choose from three incredible new covers!
Cover A – Voyager - Main cover, with artwork by the brilliant Adam Moore
Cover B – Nelvana - with artwork by Nelvana's Ted Bastien and colours by Charlie Kirchoff
Cover C – The Iron Empire – Vesuvius built by Phil Stevens, artwork by Will Brooks